August 26, 2021
Posted by:

OceanX Marketing

Category:

Events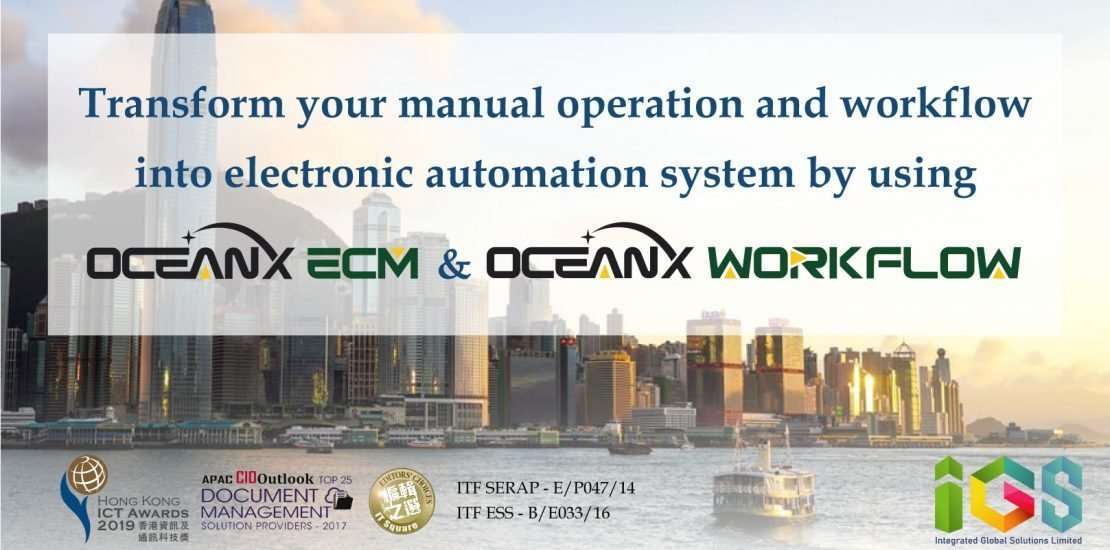 Hong Kong, China – 26 Aug, 2021 – OceanX Technology Limited, Active e-Solution Limited and Integrated Global Solutions Limited co-organized the "Transform your manual operation and workflow into electronic automation system by using OceanX ECM and OceanX WorkFlow" workshop on 19 Aug, 2021.
OceanX ECM is a comprehensive Enterprise Content Management system which includes Document Management System, Workflow, OCR, Capture, Collaboration, Co-Editing, Share, Portal and many powerful features.
OceanX ECM is local innovation product, more flexible & cost effective.
In this webinar, we share our experience in Government Departments / Bureaus:
Department A – Replace the existing manual inventory system and digitalize handwriting record in GF272, in accordance with the Stores and Procurement Regulation.
Department B – Convert manual operation and workflow of the Permit application into electronic automation system. Capture permit application's forms and information through mail, email, fax and website into one single Window.
Department C – Digital Consultancy Management System (DCMS) for Department C includes: "Project Management Sub module" facilitate project management and execution of projects. Monitor and control of the delivery of the deliverables. "Document Management Sub module" implement for pursuing effective management of electronic files / documents / reports / drawings.
Department D – Digital Central Mailroom system- to achieve the digitalization and automation of inbound and outbound mail services.
BuildingBlocks Technology – Patented technology to construct user interface without programming to increase user adoption.
The participants responded enthusiastically and raised a lot of questions about OceanX ECM.
OceanX will continue to listen to clients' needs, understand their industry requirements and upgrade enterprise content management solution with better and more efficient functions to meet fast-growing markets.