OceanFax Fax Server Wins Hong Kong ICT Awards for the Second Year
April 7, 2014
Posted by:

OceanX Marketing

Category:

Press Release
Hong Kong – April 7, 2014 – The leading fax server provider OceanX Technology Limited recently announced that, its flagship product OceanFax Fax Server has won the Hong Kong ICT Awards 2014: Best Business (Product) Certificate of Merit. It is for the second year that OceanFax Fax Server has won this prestigious award, which once again recognizes OceanFax's distinguished standing in the industry.
Hong Kong ICT Awards
The Hong Kong ICT Awards was established in 2006 with the collaborative efforts of the industry, academia and the Government. It aims to recognize and promote outstanding ICT inventions and applications, thereby encouraging innovation and excellence among Hong Kong's ICT talents and enterprises in their constant pursuit for creative and better solutions to meet business and social needs.
The Best Business (Product) Award, which is one of the ten categories of the awards 2014, aims to promote greater use of ICT in the community and encourage original software development and promote improved creativity in the exploitation of technology in the local ICT industry. It is organized by Hong Kong Computer Society and supported by Office of the Government Chief Information Officer, Hong Kong Productivity Council, Hong Kong Trade Development Council.
After the strict selection process based on the assessors' objective assessment, OceanX was selected to win the Best Business (Product) Award this year. (Take a look at the Certificate & Best Business Solution Award Booklet.)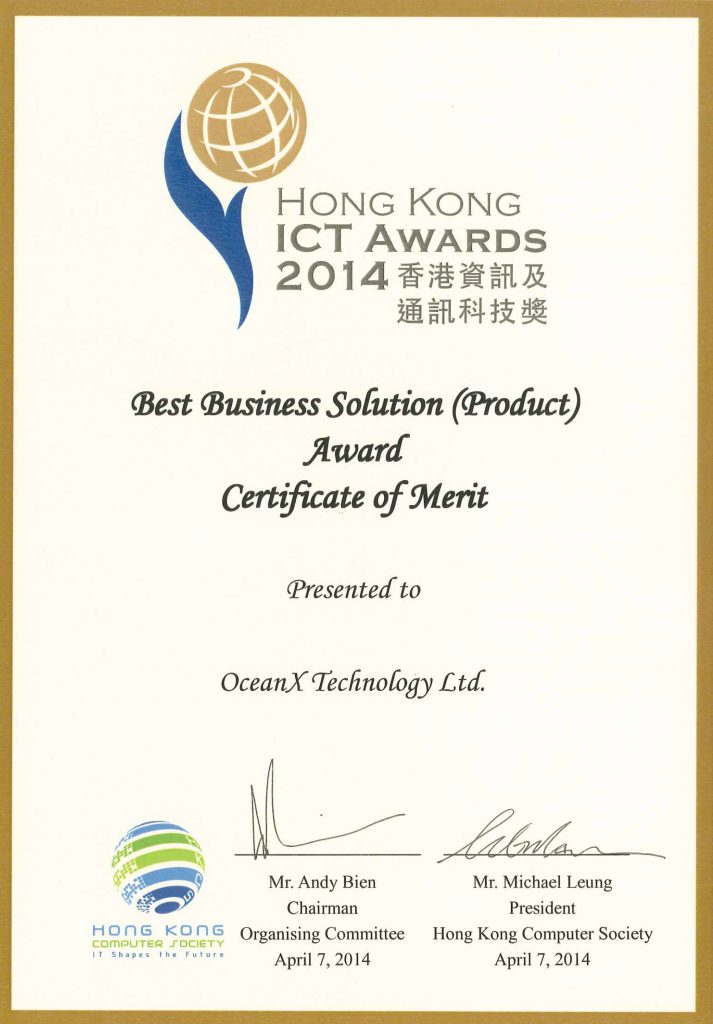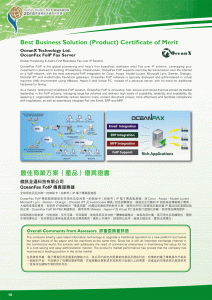 The judging panel spoke highly of OceanX and gave an encouraging comment on it: "The company smartly uses latest information technology to upgrade a traditional operation to a new platform and tackle the green issue of fax paper and fax machines at the same time. Since fax is still an important exchange channel in the commercial world, the solution well addresses the need of commercial enterprise in maintaining the setup for fax in a cost-saving and easy administration manner. The product's market performance has proved that the company has maintained a leading position in the niche market."
Awards Presentation Ceremony & Winners Pavilion ICT Expo – Open Forum
The Hong Kong ICT Awards 2014 Awards Presentation Ceremony was held on the 7th April at the Convention Hall of the Hong Kong Convention and Exhibition Centre (HKCEC). It is an annual fixture to recognize Hong Kong's outstanding ICT applications and solutions. On the remarkable ceremony, The Hon C.Y. LEUNG, the Chief Executive, The Hon Gregory SO Kam-leung, GBS, JP, Secretary for Commerce and Economic Development and Mr. Daniel Lai, BBS, JP, Government Chief Information Officer were the Guests-of-Honor.
"It is a great honor to win this authoritative award in Hong Kong ICT fields for two years." said Tse Chiu Hing, OceanX CEO, "This renowned award signifies a remarkable recognition for our efforts and achievements in fax server development. It also encourages us to continue to innovate with rollout of new features and provide the best fax server solution and service to customers."
The "Hong Kong ICT Awards 2014: Winners Pavilion ICT Expo – Open Forum" was also held on 13-16 April 2012 at International ICT Expo 2012 at HKCEC. OceanX showcased OceanFax Server and shared its profound fax server experience with visitors at the exhibition.
About OceanFax FoIP Fax Server
Global Pioneering & Asia's First Boardless Fax over IP Solution OceanFax FoIP is the global pioneering and Asia's first boardless (software only) Fax over IP solution. Leveraging your investment in planned or existing IP telephony infrastructure, OceanFax FoIP supports real time fax transmission over the internet on a VoIP network, with the most advanced FoIP integration for Cisco, Avaya, Alcatel-Lucent, Microsoft Lync, Siemens, Dialogic, Shoretel IPT and AudioCodes Fax/Voice gateways. OceanFax FoIP software is typically deployed and administered in virtual machine (VM) environment using VMware, Hyper-V and Virtual PC, instead of a physical server, with no need for additional hardware for faxing.
As a mature, field-proven boardless FoIP solution, OceanFax FoIP is innovative, fast, secure and robust that has proven its market leadership in the FoIP industry, managing large fax volumes and delivers high levels of scalability, reliability and availability. By applying it, organizations drastically reduce telecom costs, protect document privacy more effectively and facilitate compliance with regulations, as well as seamlessly integrate Fax into Email, ERP and MFPs.