March 4, 2022
Posted by:

OceanX Marketing

Category:

Press Release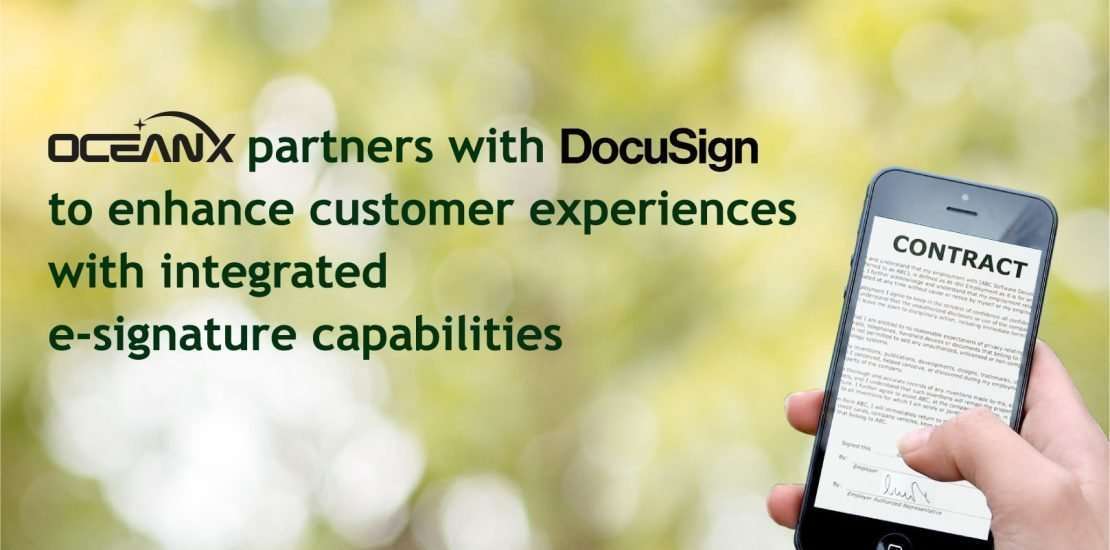 Hong Kong, China – Mar 4, 2022 – OceanX, the leading Enterprise Information Management system provider, announced today that its flagship products OceanX ECM and OceanX WorkFlow now integrate with DocuSign eSignature.
The new partnership will automate the lifecycle of contracts, legal documents, and agreement documents. The robust solution improves the customer experience of preparing, signing, and the managing of documents, providing an accelerated ROI and increased collaboration amongst company and business partners.
What is DocuSign and eSignature?
DocuSign was founded in 2003, headquartered in San Francisco with subsidiary offices across the globe. Now, there are over 1 million customers in 180 countries using DocuSign.
DocuSign's market leading eSignature product digitises the old, manual paper-based agreement process. It complies with European Union Regulation No. 910/2014 on electronic identification, trusted services for electronic transactions (eIDAS), U.S. ESIGN Act and UETA, as well as the EU eIDAS Regulation. Agreements signed with DocuSign are legally enforceable in more than 180 countries.
Not only that, but DocuSign automatically generates and stores a robust audit trail for every agreement and generate court-admissible evidence of who did what, when, and where in the signing process.
Additionally, DocuSign's responsive signing feature highly speeds up the experience on mobile devices, by automatically adapting PDF documents for easy readability.
Integration with OceanX ECM and OceanX WorkFlow
The integration of OceanX ECM,OceanX WorkFlow and DocuSign eSignature provides an all-digital document approval process. It helps users to manage their contract lifecycle more efficiently while reducing time spent in preparing, sending, tracking, reconciling and handling agreements. Additionally, it eliminates paper, ink, printing, faxing and mailing costs.
Users can approve documents almost anytime and anywhere through different devices, such as mobile phone. The document approval process can be finished in hours or minutes, with approved documents automatically saved in OceanX ECM. Approval status is tracked in real time in OceanX ECM and OceanX WorkFlow, and users can set reminders automatically.
About DocuSign
DocuSign helps organisations connect and automate how they prepare, sign, act on, and manage agreements. As part of the DocuSign Agreement Cloud, DocuSign offers eSignature, the world's #1 way to sign electronically on practically any device, from almost anywhere, at any time. Today, over a million customers and more than a billion users in over 180 countries use the DocuSign Agreement Cloud to accelerate the process of doing business and to simplify people's lives.
About OceanX
Founded in 2005 and headquartered in Hong Kong, OceanX Technology has been developing innovative products including OceanFax – the Asia's No.1 award-winning & best-selling fax server, as well as OceanX ECM – the first cloud based Enterprise Content Management System in Asia. OceanX ECM won the Hong Kong ICT Awards 2019: Smart Business (Solution for Business and Public Sector Enterprise) Certificate of Merit and acquires "APAC CIO Outlook Top 25 Document Management System" award, among 400 DMS candidates.
OceanX develops rapidly and provides flagship OceanX ECM & OceanFax Fax Server to government departments and major corporations in the global market. The company's mission is to develop world-class solutions for local markets. Devoting to green office automation technology innovation, the company is dedicated to explore technology trends and develop cutting-edge technologies, to meet continuously increasing customer needs on office automation.