December 30, 2013
Posted by:

OceanX Marketing

Category:

Press Release
Win CTI Forum Editors' Choice Awards for Three Consecutive Years in 2011, 2012 and 2013
Sweep All 4 Categories at CTI Forum Editors' Choice 2013 – Best Product, Best Manager, Best Technical Contribution & Best Salesperson
China's Only Fax Server Brand to Win the Award
Beijing, China – 30 December 2013 – OceanX's flagship OceanFax Fax Server and its team made a clean sweep at "CTI Forum Editors' Choice Award 2013" from CTI Forum today, making the company a triumphant reign. Repeating OceanFax's success with the CTI Forum Editors' Choice Award last two years, OceanFax and OceanX's team scooped wins for best product, best manager, best technical contribution & best salesperson in ICT Field this year. OceanFax is not only China's only fax server brand to win the award, but also won CTI Forum Editors' Choice Award for three consecutive years in 2011, 2012 and 2013. Winning the four awards this year demonstrates OceanX's absolute advantage over another and strengthens its leading position in fax server industry.
CTI Forum (www.ctiforum.com) is one of the most authoritative informative website in Mainland China covering IT & Applied Communication trends and product news, with focus on Call Center, Corporate Communication, and Operation & Value-added Services. The yearly Editors' Choice Selection organized by the Forum is highly credible and authoritative, which has attracted the industry's attention.
After the strict selection process based on the assessors' objective assessment and referring to the online voting, only tens of domestic and international organizations were selected to win the awards this year. The winners include OceanX, Huawei, Avaya, Dialogic and Genesys whose achievements represent the highest levels in their fields respectively.
"It is a great honor to win the award in three consecutive years, which is one of the most authoritative awards in mainland China's IT & Applied Communication fields, especially as the only fax server provider in China to win the award by beating strong opponents and together with other famous solution providers, like Huawei, Avaya, Dialogic and Genesys." said Tse Chiu Hing, OceanX CEO, "Winning CTI award not only highly recognized our product strategy of Persistent Innovation, High-end Market Occupancy, but also reinforced our leading position in the fax server industry!"
OceanX Representative (right) receives the certificate with other winners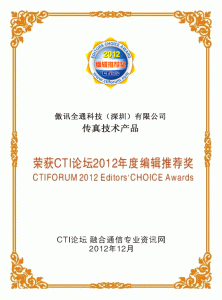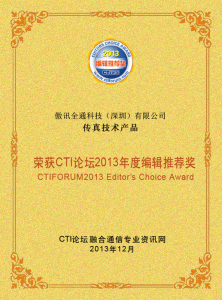 OceanFax FoIP Fax Server
OceanFax FoIP Fax Server is the global pioneering and Asia's first boardless (software only) Fax over IP solution. It is also Asia's only FoIP solution certified compatible with Cisco & Avaya, and delivers mature centralized multi-site FoIP solution proven by customer successes across industries, which occupies high-end fax server market and leads the trend of the industry. All the sub-categories of OceanFax Fax Server, e.g. unified messaging fax server, advanced fax server, enterprise fax server and fax appliance, support FoIP. Relying on not only innovative features and rich applications, but also mature, reliable and stable FoIP solution, OceanFax stood out from intense completion and won the award.