June 24, 2013
Posted by:

OceanX Marketing

Category:

Press Release
Dalian, China – June 24, 2013 – OceanFax Fax Server developer OceanX Technology Limited exhibited at "China International Software & Information Service Fair 2013" (CISIS 2013) from June 20 to 23, 2013 in Dalian World Expo Centre, Dalian City, Liaoning Province, China. Selected by the fair's organizing committee, OceanFax Fax Server was awarded "China Software and Information Service Industry's Most Competitive Product Award 2012-2013".
CISIS is not only China's biggest, most effective and influential annual IT event, but also the only state-level software fair in China. It is approved by the State Council of PRC, sponsored by Ministry of Commerce of the PRC, Ministry of Industry and Information Technology of the PRC, Ministry of Education of the PRC, Ministry of Science and Technology of the PRC, China Council for the Promotion of International Trade (CCPIT) and Liaoning Province Government, and organized by Dalian Municipal Government and The China Association of Trade in Services (CATIS).
Every year, more than 800 exhibitors, 100 IT organizations and about 15,000 visitors attend the fair, including high-level government officials from different countries, Fortune 500 senior executives, and the experts from world's top consulting firms. The yearly China Software and Information Service Industry selection organized by the fair is one of the most authoritative and influential selections in China's IT industry.
OceanX exhibited at the fair to showcase OceanFax Fax Server and share its profound fax server experience with visitors. Relying on innovative and powerful product features and numerous successful customer cases, OceanFax Fax Server was awarded "China Software and Information Service Industry's Most Competitive Product Award 2012-2013" by the fair's organizing committee. On June 20, the award presentation ceremony was held at the fair where awardees were announced. OceanX attended the ceremony and received the award.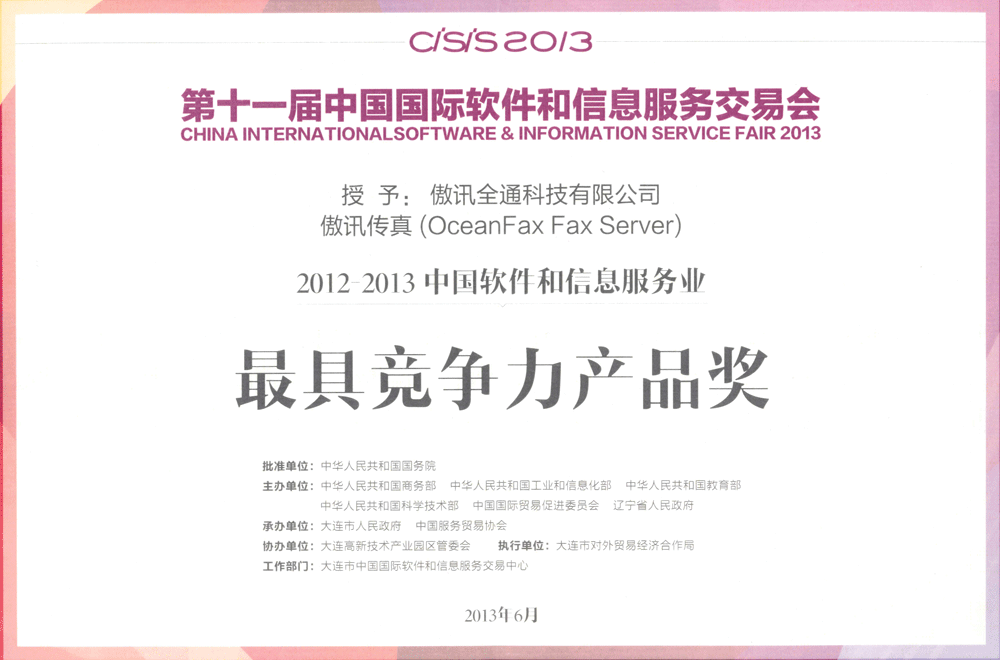 Certificate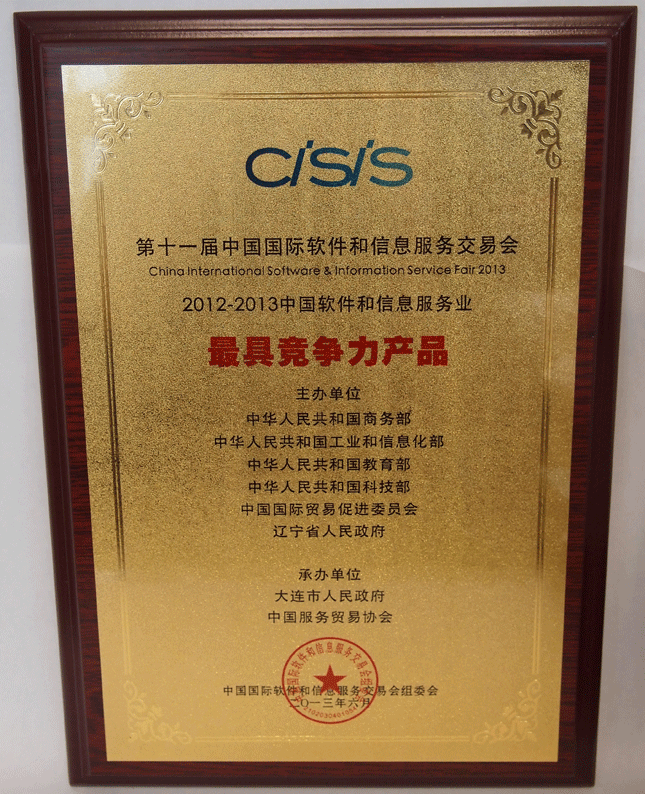 Wooden Plaque
Mr. Tse Chiu Hing, OceanX CEO (left) receives the award together with other Hong Kong and Macau Winners
Winners' Group Photo
"We are very proud to win this award, because it is one of the most authoritative IT awards in China." said Tse Chiu Hing, OceanX CEO, "Winning the award highly recognized our years of commitment to innovation and devotion to new technology research. Because innovation is the key to drive business' long-term and sustainable development, our R&D team endeavored to explore frontier technologies to keep our core technology lead, so we can always provide customers with the most advanced and practical fax server to meet their continuous growing fax needs."
About OceanFax Fax Server
OceanFax Fax Server, the world's most innovative fax server, is designed to support high-volume document delivery efficiently and securely. Built on .NET, OceanFax is the first fax server to support Unicode, Multi-language, Fax Data Mining, Super User, Black & White List, Windows on the Web, Fax Report Generator and Approval & Stamp. The server achieves the highest quality of fax conversion with its original Image Plus Patent Technology, supports Least Cost Routing, Self-defined Chinese & Image Header & Footer and Quick Search. It can also seamlessly integrate with Email (Exchange, Lotus Notes & SMTP Mail), ERP (Oracle, SAP & IBM), FoIP for the gateways (Cisco, Avaya, AudioCodes & Alcatel) and MFP (HP, Ricoh, Canon & Fuji Xerox). With the innovative features and rich applications, OceanFax enables organizations to streamline business processes, improve efficiency and achieve total automation.
Since launching to the market, not only has OceanFax led the Mainland China market for years, it has also become the No.1 best-selling fax server in Hong Kong and further penetrated into oversea market in recent years, with the distribution networks in North America and Asia. In Hong Kong and China, OceanFax has a large customer base across industries, including government departments, Hong Kong University of Science and Technology, Dah Sing Bank, PCCW, Ricoh China, China Continent P&C Insurance and Jintian Group. OceanFax are popular with users and hundreds of thousands users send and receive faxes by OceanFax every day.