May 31, 2014
Posted by:

OceanX Marketing

Category:

Press Release
Win this Prestigious Award for Three Consecutive Years in 2011, 2012 and 2013
China's Only Fax Server to Win this National Software Award
Selected to Win the Award on behalf of Hong Kong Software Industry
Beijing – 31 May 2014 – OceanX recently announced that its flagship OceanFax Fax Server has received China Outstanding Software Product Award 2013 from China Software Industry Association led by Ministry of Industry and Information Technology of PRC. This is the third consecutive year that OceanFax has received this prestigious award on behalf of Hong Kong Software industry, again the only fax server in China to win this national software award, with the same honor in 2011 and 2012.
Winning the COSPA for three consecutive years demonstrates OceanX's absolute advantage over another and leading position in fax server sector.
Award Presentation Ceremony (Hong Kong Region)
On May 29, the China Outstanding Software Product Awards 2013 (Hong Kong Region) Presentation Ceremony was held at the Int'l Soft China 2014 from May 29 to 31 in Beijing Exhibition Centre where 4 awardees were announced. OceanX attended the ceremony and received the award.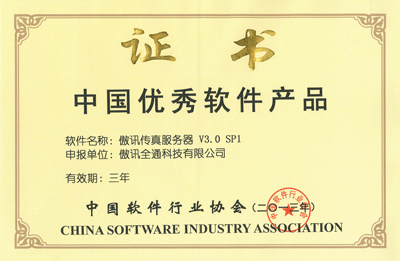 Certificate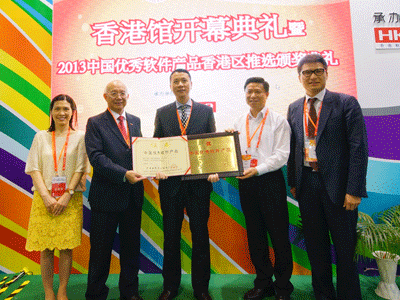 Winners' Group Photo
"It is a great honor to be the one-and-only fax server solution to receive the COSPA in three consecutive years, especially on behalf of Hong Kong software industry." said Tse Chiu Hing, OceanX CEO, "Winning this national award not only highly recognizes our product strategy of Persistent Innovation and High-end Market Occupancy, but also encourages us fulfilling our mission of providing the best fax solution to customers!"
Winners Exhibition
The "China Outstanding Software Product Award 2013: Winners Exhibition" was also held at Hong Kong Pavilion, Int'l Soft China 2014. OceanX showcased OceanFax Fax Server and shared its profound fax server experience with visitors at the exhibition. The exhibition puts the winning companies in spotlight and promotes their software products to both Hong Kong and overseas professional visitors.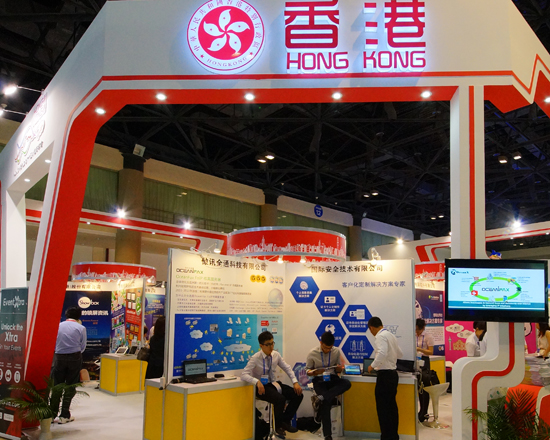 Hong Kong Pavilion, Int'l Soft China 2014
Mr. Miao Wei, Minister of MIIT (middle) visits Hong Kong Pavilion, Int'l Soft China 2014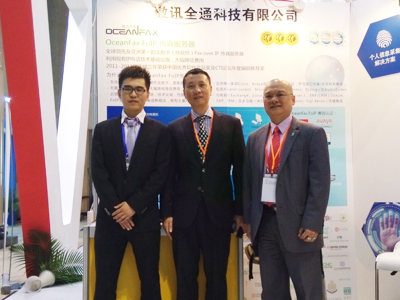 Mr. Jonny IP, Vice Chairman & CEO of Hong Kong Software Industry Association (right) visits OceanX's booth
OceanFax FoIP Fax Server – Global Pioneering & Asia's First Boardless (Software Only) Fax over IP
Asia's Only FoIP Fax Server Certified Compatible with Cisco & Avaya
Deliver Mature & Proven Centralized Multi-site FoIP Solution
OceanFax FoIP Fax Server is global pioneering & Asia's first boardless (software only) fax over IP. It is also Asia's only FoIP fax server certified compatible with Cisco and Avaya, offers mature centralized multi-site FoIP solution proven by numerous customer successes across industries, which supports centralized and virtualized fax infrastructure to deliver services to multiple locations from one central data center. All the sub-categories of OceanFax Fax Server, e.g. Unified Messaging Fax Server, Advanced Fax Server, Enterprise Fax Server and Fax Appliance, support FoIP. With the cutting-edge technology and stable performance, OceanFax FoIP stands out from competitors, commands a large share of high-end fax server market and also leads the trend of the Fax over IP field. OceanFax FoIP is undoubtedly the best choice of customers from all industries.