March 29, 2014
Posted by:

OceanX

Category:

Events

Beijing, China – March 29, 2014 – For its flagship No.1 Best Selling & Award Winning OceanFax Fax Server won CTI Forum Editors' Choice in three consecutive years, OceanX Technology Limited was invited to exhibit OceanFax at Call Center & Enterprise Communication Expo China 2014, held from March 27 to 28, 2013 in Beijing, China.
Call Center & Enterprise Communication Expo China is an annual call center and enterprise communication event organized by CTI Forum. It is also the biggest, professional ICT event in Asia Pacific you should not miss. Every year, Asia's, even World's top experts and scholars, IT organizations and senior executives and professionals from the industries of IT, Telecommunication, Finance, Manufacturing, Trading and etc. attend the grand event.
The theme of the 2014 annual exhibition, "Internet Communication and Collaboration", called for a more extensive attention to enterprise communication, call center and next generation communication architecture. The grand event this year attracted the most famous ICT organizations to exhibit their products, showcasing the most cutting-edge ICT technologies and sharing their opinions on the future ICT trends, continuously promoting the development of the industry.
Focusing on the event's theme, OceanX, the leading provider of fax server in Asia, one of the fastest-growing independent fax software vendors in the global market, recommended its global pioneering and Asia's first OceanFax boardless (software Only) fax over IP solution, which leverages organizations' existing IP telephony infrastructure to enable cost-saving, efficient, secure and reliable electronic document delivery.
The company set up a booth in the expo at the thematic zone, introduced OceanFax FoIP Fax Server to visitors, including its benefits brought to organizations, innovative features, rich applications, absolute advantages over traditional fax servers, as well as shared its specially designed FoIP solutions for customers from different industries and of different kinds, all kinds of FoIP applications by integrating with call centers. OceanX's well-designed booth, advanced solutions and professional consultants not only improved its international image, but also attracted great attention from visitors.
OceanFax FoIP Fax Server – Global Pioneering & Asia's First Boardless (Software Only) Fax over IP
Asia's Only FoIP Fax Server Certified Compatible with Cisco & Avaya
Deliver Mature & Proven Centralized Multi-site FoIP Solution
OceanFax FoIP Fax Server is global pioneering & Asia's first boardless (software only) fax over IP. It is also Asia's only FoIP fax server certified compatible with Cisco and Avaya, offers mature centralized multi-site FoIP solution proven by numerous customer successes across industries, which supports centralized and virtualized fax infrastructure to deliver services to multiple locations from one central data center. All the sub-categories of OceanFax Fax Server, e.g. unified messaging fax server, advanced fax server, enterprise fax server and fax appliance, support FoIP. With the cutting-edge technology and stable performance, OceanFax FoIP stands out from competitors, commands a large share of high-end fax server market and also leads the trend of the FoIP field. OceanFax FoIP is undoubtedly the best choice of customers from all industries.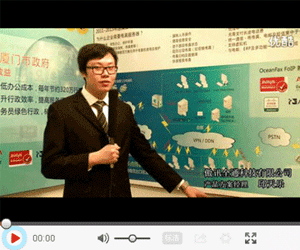 OceanX's Product Consultant introduces the advantages, benefits of OceanFax Centralized Multi-site FoIP Solution, as well as explains how it works and shares customer cases
(Click the image to play)