June 15, 2012
Posted by:

OceanX

Category:

Press Release
Hong Kong – June 15, 2012 – The leading fax server provider OceanX Technology Limited today announced that the company released the version 3.0 of its flagship OceanFax Fax Server, to meet customers' increasing expectations and by leveraging its strong research capability. Getting a gorgeous upgrade, the new version is equipped with multiple innovative and practical new features, aiming to bring customers a better experience!
Researched and developed by OceanX, the No.1 best-selling and award-winning OceanFax Fax Server is the most innovative world-class fax server. It enables organizations to achieve paperless and intelligent faxing. By seamlessly integrating into regular work applications and devices, OceanFax consolidates and streamlines business and fax processes, improves efficiency and reduces operational costs. Immediately after launching, OceanFax became popular and has been widely applied in different industries, including Government, Banking & Finance, Insurance, Manufacturing, Trading, Logistics, and etc. Now OceanFax already has a large customer base and earns high recognition from users.
OceanFax V3.0's new functions mainly include Auto Reply, Barcode Recognition & Auto Distribution, Approval & Stamp, Data Security, Image Plus Patent Technology, Self-defined Chinese and Image Header & Footer, Time Stamp, Built-in Fax Viewer/Editor, Fax Preview,, and etc. All the new features are designed delicately, aiming to better meet clients' new requirements.
Auto Reply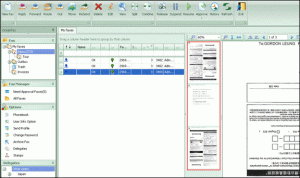 Sends an auto receipt back to the sender according to Caller ID, CSID or the fax number matched with either.

The receipt's content and style are customizable, and generally include the ID number and the first page of the inbound fax.
Barcode Recognition & Auto Distribution
Automatically recognizes the barcode message and route to users' mail boxes:
By recognizing the messages in barcode, the new version supports to automatically route inbound faxes to the pre-defined users' mail boxes;

Supports to recognize different kinds of barcodes;

Turns barcode message into an xml file individually and exports the file together with fax image to network drive for archive or the third-party system for importing;

Also automatically exports barcode message to the pre-defined fields, which will be displayed in the fax list in the desktop client and web client for quick search.
Users are free to create approval tasks, pre-define approvers and add stamp, signature and note.

Supports multi-layer approval and batch stamp;

Stores e-signature and e-stamp in original color

;

Supports stamp management.
The new version supports AES Symmetric key encryption and Https/SSL transfer, to protect the safety and ensure confidentiality of fax data during transmission and storage.
Image Plus Patent Technology
Enable Super Delicate Image Processing:


By applying the technology, OceanFax achieves the highest quality of fax conversion in the field, and provides the sharpest fax image in the market, avoiding the difficulty of the message to be read due to its fuzzy fax image.

OceanX invented Image Plus Technology and has officially applied for the patent protection.
Self-defined Chinese and Image Header & Footer
The Header & Footer in the new version supports Multilanguage (e.g. English, Traditional and Simplified Chinese) and image. The messages, including a recipient's name, a company name and a corporate logo can be inserted automatically to the Header & Footer.

Users can also create a standard corporate Header & Footer to display corporate logo and company address.
The new version automatically adds the receiving time, page number, CSID and Caller ID to all inbound faxes, which facilitates users to have the related fax information when they view fax image.
Built-in Fax Viewer/Editor
The new version supports to save, edit, forward, route, sign, stamp, split and combine faxes

;

Supports to drag and drop stamp and signature

;

Log is written to record the execution of each step.
Users can preview content by Reading Pane without opening fax images. The new feature enables users to browse fax images by simple operation and intuitive way of reading.

Similar to Outlook, users can customize the Reading Pane to suit the way that they like, including right, bottom and even off.

Users can have an overview of multiple fax images by simply clicking "Thumbnails" in the Reading Pane.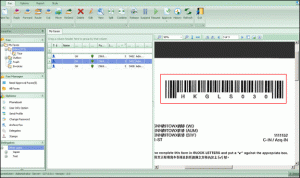 Barcode Recognition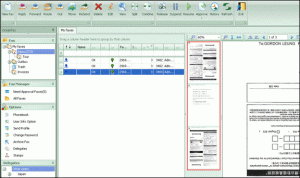 Fax Preview (Thumbnails)
"As a leading fax server provider, OceanX always values customers' comments and innovates with rollout of new features." said Mr. Tse Chiu Hing, OceanX CEO, "Our flagship OceanFax Fax Server has been the No.1 best-selling fax server for years, been popular among enterprise users and won authoritative national awards repeatedly. In order to better serve our customers and pursue perfection, we upgrade OceanFax to V3.0 and deliver multiple innovative new features. It is no doubt that the new version will explore and lead the trend of fax technology and arouse another fashion of intelligent faxing in the business world!"