January 16, 2020
Posted by:

OceanX Marketing

Category:

Events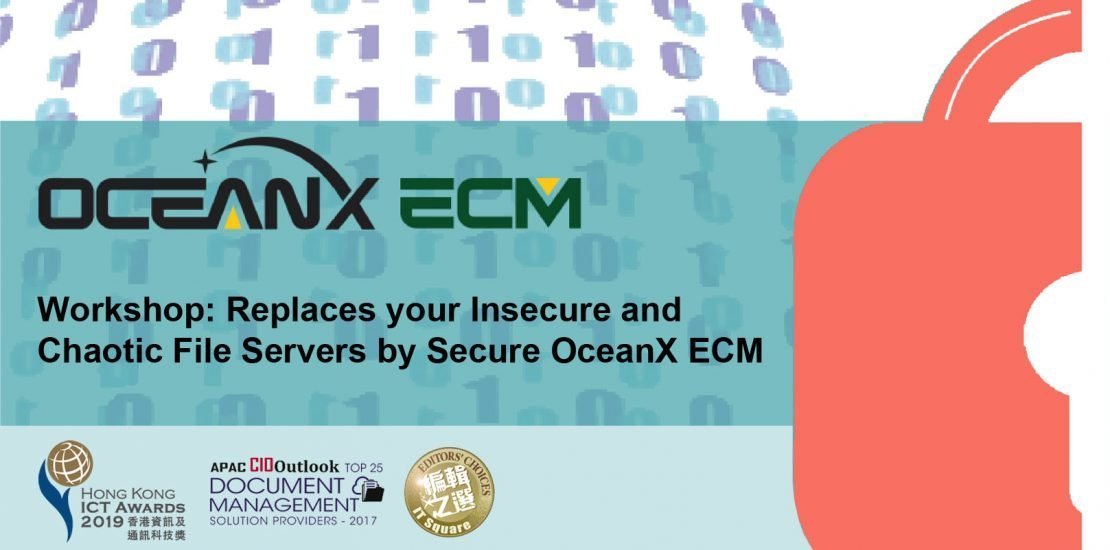 Hong Kong, China – 16 Jan, 2020 – OceanX Technology Limited and Active e-Solution Limited jointly organized the "Replaces your Insecure and Chaotic File Servers by Secure Enterprise Content Management" workshop.
OceanX ECM – won ICT Award and CIO Outlook Asia Top 25 DMS – is a Document Management System that enables organizations to securely Capture, Store, Organize, Share, and Collaborate on business-critical content; protect your personal data with a high return on investment.
Highlights:
Create, Share and Collaborate your important Documents, like legal documents, in a Secure, Smart and Effective Way
Reliable and Secure System for Managing Confidential Personnel Files
Powerful Solution to Organize Financial Documents
Capture paper documents
Manage emails together with documents
Outlook Add-in enables users to store and manage emails directly in Microsoft Outlook interface
Office Add-in enables users to manage documents directly in Microsoft Office Interface
The participants responded enthusiastically and raised a lot of questions about OceanX ECM.
Through the workshop, the participants showed great interest in BuildingBlocks, Office Add-in, Outlook Add-in, Workflow, OceanX PDFX and OceanX Capture.
OceanX will continue to listen to clients' needs, understand their industry requirements and upgrade enterprise content management solution with better and more efficient functions to meet fast-growing markets.