June 27, 2019
Posted by:

OceanX

Category:

Events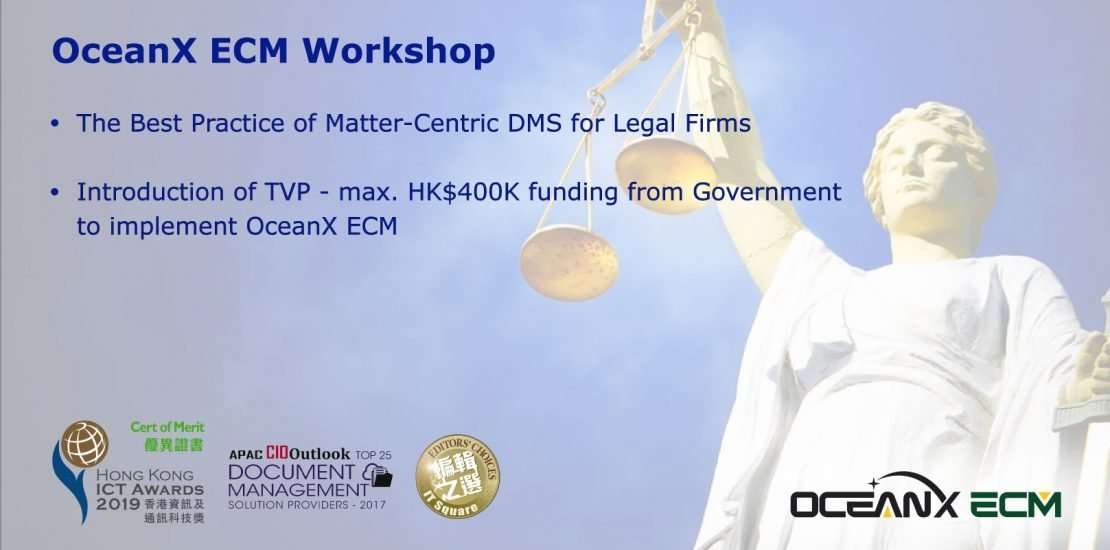 Hong Kong, China – 27 Jun, 2019 – OceanX, the leading Cloud-based Document Processing & Delivery Software provider, successfully organized "The Best Practice of the Matter-Centric DMS for Legal Firms" workshop on 27 Jun, 2019.
OceanX ECM includes Matter-centric Collaboration, Electronic Matter Folders, OceanX Legal Case Management, Email Management, Outlook Add-in, Office Add-in, OceanX Capture and OceanX PDFX, facilitating professionals to manage client matters and documents effectively and efficiently.
Highlights:
Matter-Centric Collaboration & Electronic Matter Folders– Matter Folders in OceanX ECM contains all the matter documents (including scanned images, soft copy documents and emails). Multiple users could work on it for internal and external parties at the same time.
OceanX Legal Case Management– The solution to manage legal cases from enquiry to real case, and create the related matter folders in OceanX ECM.
Email Management– OceanX ECM provides a platform for professionals to manage emails together with documents and combines them into a single Matter Folder for matter-centric collaboration.
Outlook Add-in– Outlook Add-in integrates Microsoft Outlook with OceanX ECM system, enables users to store and manage emails directly in Microsoft Outlook interface.
Office Add-in– Office Add-in integrates Microsoft Office with OceanX ECM system. It enables users to Open, Edit, Save or Create Versions in OceanX ECM directly from Microsoft Office Interface.
OceanX Capture– Powerful business application that can automatically convert paper documents to critical business data for document filing or business applications. Its unique patented CapturePlus technology with advanced function increases OCR accuracy to 99.99%
OceanX PDFX– The tool to convert any documents to PDF with Watermark, Page Numbers, Bate Numbers and Security Control. It can also bind documents in a matter folder into Matter Bibles with table of content and cover page.
The participants responded enthusiastically and raised a lot of questions about OceanX ECM and Technology Voucher Program (TVP).
Through the workshop, the participants showed great interest in BuildingBlocks, Office / Outlook integration, document search, encryption, OCR, OceanX Capture and auto-filing.
OceanX will continue to listen to clients' needs, understand their industry requirements and upgrade enterprise content management solution with better and more efficient functions to meet fast-growing markets.