OceanX successfully held "Why Still Use Fax Machines and MFP Fax?" workshop
June 29, 2018
Posted by:

OceanX

Category:

Events
OceanX successfully held "Why Still Use Fax Machines and MFP Fax?" workshop
– Replace your Fax Machines & MFP Fax by OceanFax Fax Server (Cloud, On-premises)
– Fax via Outlook/email, MFP, PC, Web, SAP and Backend applications
– Mobile Fax – Send and Receive Fax by Mobile phone at Anytime and Anywhere
Hong Kong, China – 29th June, 2018 – OceanX, the leading Cloud-based Document Processing & Delivery Software provider, successfully organized "Why Still Use Fax Machines and MFP Fax?" workshop with Active e-Solution Limited on 28th June, 2018.
The workshop introduce Oceanfax Fax Server, ImagePlus, CapturePlus, OCR Auto-Faxing, TenderBox and Mobile Fax.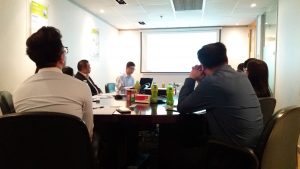 Benefits of Oceanfax Fax Server:
1. Mobile fax: (new function)
– Send and receive fax wherever you are and whenever you need.
– Capture hard copy – take photo and send out simply through mobile phone.
2. Tenderbox: Unique feature to collect your tender offer in a secure and handy way.
3. OCR Auto-faxing and routing:
– QR code and barcode recognition.
– Output to other systems directly.
4. Auto-Faxing:
– Integrate with backend system such as SAP, Oracle, Avaya, Cisco and MFPs.
– Automatically send fax to recipients without requiring users to input any fax numbers and emails.
5. Email Integration: Send and receive fax in email client.
6. Desktop Fax: Send and receive fax in Desktop applications.
7. MFPs Scan to OceanFax: Centralize your MFP's faxes into OceanFax.
8. Consolidate Fax Lines & Provide Audit Trail: Consolidate all fax transmission, centralize all fax records & provide audit trail.
9. Compliancy and Security (AES 256 encryption): Compliance with policy & regulation, offer the highest security and confidentiality of fax.
The participants responded enthusiastically and raised a lot of questions about Oceanfax Fax Server.
About OceanX Technology Limited
To Be the Leading Enterprise Information Management and Delivery Solution Provider
Develop World Class Solution for Local Markets
Founded in 2005 and headquartered in Hong Kong, OceanX Technology has been developing innovative products including OceanFax – the Asia's No.1 award-winning & best-selling fax server, as well as OceanX ECM – the first cloud based Enterprise Content Management System in Asia. OceanX ECM acquires "APAC CIO Outlook Top 25 Document Management System" award, among 400 DMS candidates.
As a partner of global technology giants, such as SAP, Cisco, Avaya, HP, Ricoh, and Microsoft, OceanX develops rapidly and provides flagship OceanX ECM & OceanFax Fax Server to government departments and major corporations in global market.
The company's mission is to develop world-class solution for local markets. Devoting to green office automation technology innovation, the company is dedicated to explore technology trends and develop cutting-edge technologies, to meet continuously increasing customer needs on office automation.