OceanX successfully held " Cloud-based DMS for Digital Workspace, Knowledge Retention, Company and Personal Data Management" workshop
March 22, 2018
Posted by:

OceanX

Category:

Events
OceanX successfully held " Cloud-based DMS for Digital Workspace, Knowledge Retention, Company and Personal Data Management "
Hong Kong, China – 22nd March, 2018 – OceanX, the leading Cloud-based Document Processing & Delivery Software provider, successfully organized the " Cloud-based DMS for Digital Workspace, Knowledge Retention, Company and Personal Data Management " with Active e-Solution Limited on 22nd March, 2018.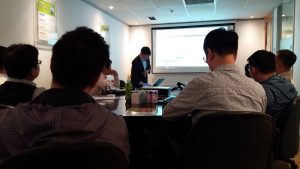 The workshop introduced concept of Enterprise Content Management (ECM) and how OceanX ECM applies in Digital Workspace (improve efficiency and save cost), Knowledge Retention (reduce risk of staff turnover), Company and Personal Data Management (Data security).
OceanX ECM includes the following features
OceanX Capture – Powerful business application that can automatically convert paper documents into critical business data for document filing or business applications. Its unique patented CapturePlus technology with advanced function increases OCR accuracy to 99.99%.
Outlook Add-in and Office Add-in – Outlook Add-in and Office Add-in integrates with OceanX ECM system, enable users to store and manage emails directly in Microsoft Outlook interface and create, manage and edit documents in Microsoft Office interface.
Audit Trail – Provides detailed record that lists every edit and access record of all project folders and files.
Delete and Purge – Users with delete right can delete documents in OceanX ECM, but the deleted documents are kept in OceanX ECM until they are purged.
Data Security and Protection
– Set permission to specific users who can access the system.
– All documents stored in OceanX ECM are AES 256 encrypted and can only be accessed within OceanX ECM.
– Sensitive information in documents can be protected.
Self-defined and web-based Interface
– Customer can use our unique technology BuildingBlocks to create their user interface. Different client interfaces and functions are available for different users or groups.
– Responsive web-based interface fits for all devices.
The participants responded enthusiastically and raised a lot of questions about OceanX ECM
Through the workshop, the participants showed great interest in version control, filing email by ECM, OceanX Capture, scan documents, OCR support language and document process. OceanX will continue to listen to clients' needs, understand their industry requirements and upgrade enterprise content management solution with better and more efficient functions to meet fast-growing markets.
About OceanX Technology Limited
Founded in 2005 and headquartered in Hong Kong, OceanX Technology has been developing innovative products including OceanFax – the Asia's No.1 award-winning & best-selling fax server, as well as OceanX ECM – the first cloud based Enterprise Content Management System in Asia. OceanX ECM acquires "APAC CIO Outlook Top 25 Document Management System" award, among 400 DMS candidates.
As a partner of global technology giants, such as SAP, Cisco, Avaya, HP, Ricoh, and Microsoft, OceanX develops rapidly and provides flagship OceanX ECM & OceanFax Fax Server to government departments and major corporations in global market.
The company's mission is to develop world-class solution for local markets. Devoting to green office automation technology innovation, the company is dedicated to explore technology trends and develop cutting-edge technologies, to meet continuously increasing customer needs on office automation and paperless office.