OceanX successfully held "Comprehensive DMS for HR or Finance Dept. and Contract Management " workshop
November 2, 2017
Posted by:

OceanX

Category:

Events
OceanX successfully held "Comprehensive DMS for HR or Finance Dept. and Contract Management Workshop"
Hong Kong, China – 9th November, 2017 – OceanX, the leading Cloud-based Document Processing & Delivery Software provider, successfully organized the "Comprehensive DMS for HR or Finance Dept. and Contract Management" with Active e-Solution Limited on 2nd November, 2017.
The workshop introduced concept of Enterprise Content Management (ECM) and how OceanX ECM applies in Personnel Record Management, Access Control, Security Control and Audit Trail. It shows the functions of "Outlook Add-in", "Office Add-in", "Workshare" (compare, secure or share documents) and "OceanX Capture" (put hard copy documents into ECM).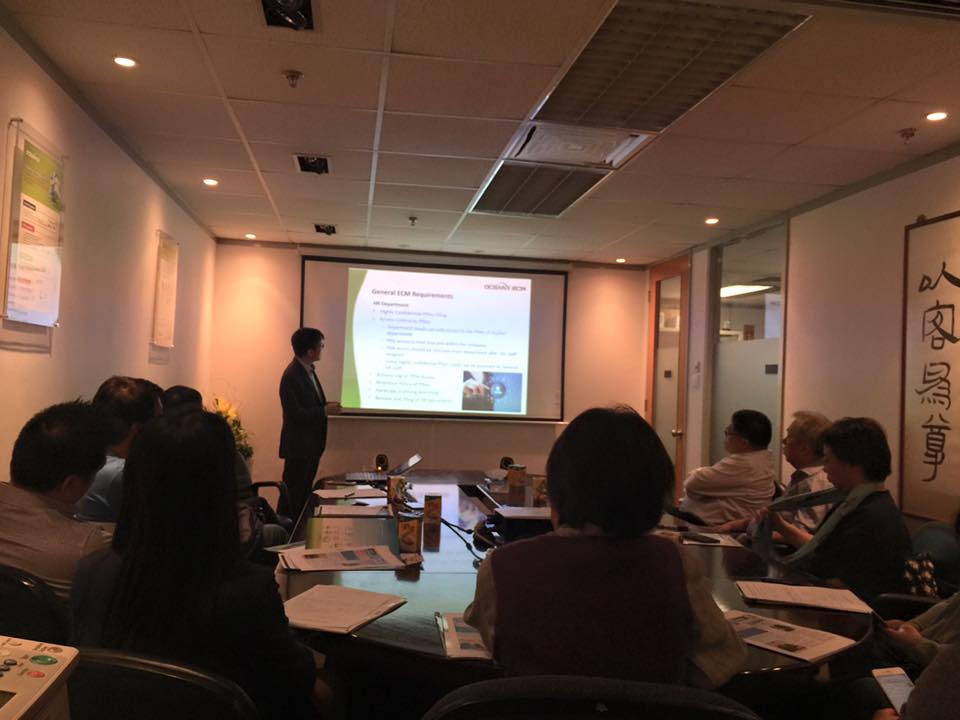 OceanX ECM includes the following features
OceanX Capture – OceanX Capture helps users easily capture the data on hard copy documents such as resume, application form, invoice and delivery notes.
Integration with HRMS / Finance System – With the integration with HRMS/Finance system, HR/Finance data can be automatically input to the system, e.g., when one staff leaves company, the personnel files of the staff would be updated and the personnel files would not be accessible by the department heads anymore.
Personnel Record Management – Organize the HR processes through update, release, transfer and dispose of personnel files. HR staffs can set up the approval process for personnel files to be reviewed and confirmed before releasing to department head. Setting of retention policy of the personnel files after the staff leaves the company. Some highly confidential documents could not be seen by General HR staff.
Document Compare – Workshare Compare provides the comparison of unrevised and revised documents. Users can discuss and review the contract together in a collaborate platform..
Version Control – Users can edit and share the latest file version in OceanX ECM, avoiding using of old version files that may cause companies suffering a great financial loss or even blemishing their reputation.
Security Control (AES256 Encryption) – All HR/Finance/Contract documents stored in ECM is encrypted with AES 256, transfer documents through email securely.
Access Control and Audit Trail – To manage personnel files/Finance Document/Contract, OceanX ECM enables users with different permissions to only access the files of his/her staff, IT users could not open the files. All access information will be recorded in OceanX ECM and available to search.
The participants responded enthusiastically and raised a lot of questions about OceanX ECM
Through the workshop, the participants showed great interest in BuildingBlocks, OceanX Capture, Office / Outlook Add-in, and data security for confidential documents.
In order to ease process of managing corporate information, OceanX will continue to listen to clients' needs, understand their industry requirements and upgrade enterprise content management solution with better and more efficient functions to meet fast-growing markets.
About OceanX Technology Limited
Founded in 2005 and Headquartered in Hong Kong, OceanX Technology Limited is a leading Cloud-based Document Processing & Delivery Software provider of Enterprise Wide Software Solutions. The pioneering and innovative solutions developed by OceanX include the award winning Oceanfax Fax Server solution, the OceanX ECM solution and the OceanX DPC solution. The solutions are being used by many government departments and large corporations around the world.v
At present, OceanX Technology caters its products to major Enterprises, government institutions and public utilities in Asia, but the firm plans to expand globally in the future. Our ultimate goal is to become a global company. In the coming years we will aim to expand in Europe, and U.S.