Preferring OceanFax powerful super user function, Genpact (Dalian) Co Ltd replaces RightFax with OceanFax for smarter Fax Automation.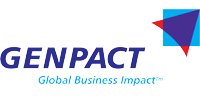 Shenzhen – 11 December 2015 – Genpact (Dalian) Co. Ltd. recently chose OceanFax Fax Server to replace RightFax, looking forward to its capability of super user that can be designed based on business structure with multi-tiers management to bring smarter fax automation.
Project Highlight
Replace Rightfax with OceanFax Fax Server
Why OceanFax?
Powerful super user function
-Design based on business structure
-Multi-tiers management
-Accounts can be central-managed by different job positions
Seamless integration with Outlook to send/receive email and fax directly
-Support Exchange\Notes\SMTP mail server
About Genpact (Dalian) Co., Ltd.
Genpact is shorthand for "generating business impact". It designs, transforms, and runs intelligent business operations including those that are complex and specific to a set of chosen industries. The result is advanced operating models that foster growth and manage cost, risk, and compliance across a range of functions such as finance and procurement, financial services account servicing, claims management, regulatory affairs, and industrial asset optimization. Its hundreds of long-term clients include more than one-fourth of the Fortune Global 500 – and of those, over 10 are in the top 25.