April 22, 2015
Posted by:

OceanX

Category:

Press Release
Shenzhen, Guangdong Province, China – April 22, 2015 – OceanX, the leading Cloud-based Document Processing & Delivery Software provider, has awarded the national patent of ImagePlusTM Technology from China State Intellectual Property Office (SIPO) on 22th April, 2015. This is OceanX's greatest honor to win this award. OceanX will provide the best fax image to the market continuously. The authorized patent number is ZL 201110326462.9.
"This is our greatest honor to award the ImagePlusTM Technology Patent." said by Mr. Tse Chiu Hing, the CEO of OceanX Technology Limited. "We will keep investment in research and development for developing the best fax technology to customers. Our mission in fax service is to provide the best fax automation experience to our clients."
ImagePlusTM Technology Enhances Fax Image Quality and Provides the Best Fax Image Experience to OceanFax Users.
In the past, fax has limitation in the image quality. OceanX's, ImagePlusTM Technology is developed to breakthrough this limitation.
.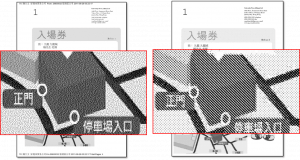 Left:- Fax Image with ImagePlusTM Technology ; Right- Fax Image from other Fax machine or Fax Server
Generally speaking, the normal resolution of a fax image is 200 × 100 DPI (Dots per Inch) or 200 × 200 DPI only. The quality of fax image is not good especially when it contains pictures. In order to break through the limitation, ImagePlusTM Technology is designed to offer the best possible image to a fax.
With ImagePlusTM Technology, customers can have a better quality fax image. The OCR and Barcode recognition result can be greatly enhanced.
About OceanFax Fax Server
OceanFax is the No.1 best-selling, award-winning and innovative Fax Server providers in Asia. It supports secure, reliable and high-volume e-document delivery. It consists of many exclusive functions such as Unified Messaging, Unicode, Multi-languages, Quick Search, Black and White List, Windows on the Web, WebFax, Fax Report Generator, Approval & Stamp, Least Cost Routing and the Patented ImagePlusTM technology.
OceanFax can integrate with many mainstream IT solutions. It can integrate with Email (Exchange, Lotus Notes and other SMTP Mail Servers) and ERP (Oracle, SAP, IBM, Microsoft Dynamics, iScala and CheckEAM). It can also fit in with IP PBX and Voice getways (Cisco, Avaya, Alcatel-Lucent, Microsoft Lync, Siemens, Dialogic, Shoretel IPT and AudioCodes). Moreover, it can work with different MFPs (HP, Ricoh, Canon, Fuji Xerox and Konica Minolta). OceanFax enables organizations to streamline workflow, improve efficiency and achieve totally automated fax processing.
About OceanX Technology Limited
Founded in 2005, OceanX Technology Limited is a leading Cloud-based Document Processing & Delivery Software provider of Enterprise Wide Software Solutions. The pioneering and innovative solutions developed by OceanX include the award winning Oceanfax Fax Server solution, the OceanX ECM solution and the OceanX DPC solution. The solutions are using by many government departments and large corporations around the world.
Headquartered in Hong Kong, OceanX has branches in Beijing, Shanghai, Shenzhen and North America. OceanX also developed worldwide reseller network in Mainland China, Hong Kong, Macau, Taiwan, India, Singapore, Malaysia, Philippines, Thailand, Indonesia, United States, Canada, UK, Israel, Iran, Caribbean Countries, South Africa & Australia.