OceanFax Fax Server wins Hong Kong ICT Awards 2012: Best Business (Product) Award
April 17, 2012
Posted by:

OceanX

Category:

Press Release
Hong Kong – April 17, 2012 – The leading fax server provider OceanX Technology Limited recently announced that, its flagship product OceanFax Fax Server has won the Hong Kong ICT Awards 2012: Best Business (Product) Certificate of Merit. This prestigious award once again recognizes OceanFax's distinguished standing in the industry.
Hong Kong ICT Awards
The Hong Kong ICT Awards were established in 2006 under a collaborative effort amongst the industry, the academia and the Government. It recognizes, promotes and commends the excellent achievements to which Hong Kong ICT professionals and organizations contribute.
The Best Business (Product) Award, which is one of the ten categories of the awards 2012, aims to promote greater use of ICT in the community and encourage original software development and promote improved creativity in the exploitation of technology in the local ICT industry. It is organized by Hong Kong Computer Society and supported by Office of the Government Chief Information Officer, Hong Kong Productivity Council, Hong Kong Trade Development Council.
After the strict selection process based on the assessors' objective assessment, OceanX was selected to win the Best Business (Product) Award this year. (Take a look at the Certificate & Best Business Award Winners List.)
The judging panel spoke highly of OceanX and gave an encouraging comment on it: "The company continues to invest in research and development for improvement of the product and develops its own patent to further enhance the product quality to a higher standard. It is encouraging to see a Hong Kong company, with the perseverance of the IT entrepreneur, to enhance its product functions and features continuously, and place efforts to make the product competitive in the international market."
Awards Presentation & Winners Exhibition
The Awards Presentation Ceremony and a Winners' showcase exhibition were held in Hong Kong Convention and Exhibition Centre (HKCEC) on 3 Apr 2012.
Mr. Herman Lam, CEO of Hong Kong Cyberport Management Co., Ltd. (right) gave the award to Mr. Benjamin Tse (left), CEO of OceanX Technology Limited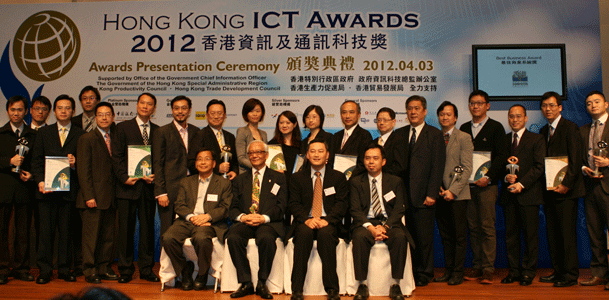 Winners' Group Photo
In receiving the award, Mr. Tse Chiu Hing, OceanX CEO, proudly said, "We are honored to receive this authoritative award. This renowned award signifies a remarkable recognition for our efforts and achievements in fax server development. It also encourages us to continue to innovate with rollout of new features and provide the best fax server solution and service to customers."
The "Hong Kong ICT Awards 2012: Winners Exhibition" was also held on 13-16 April 2012 at International ICT Expo 2012 at HKCEC. OceanX showcased OceanFax Server and shared its profound fax server experience with visitors at the exhibition.
About OceanFax Fax Server
OceanFax Fax Server is the most innovative world-class fax server. It is designed to support the high-volume document delivery in an efficient and reliable way. Built on .NET technology, OceanFax is the first fax server brand in the field to support Unicode, Multi-language, Fax Data Mining, Super User, Black & White List, Windows on the Web, Fax Report Generator and Approval & Stamp. Besides, OceanFax achieves the highest quality of fax conversion with its original Image Plus Patent Technology, supports Least Cost Routing, Self-defined Chinese & Image Header & Footer and Quick Search. OceanFax can also seamlessly integrate into Email (Exchange, Lotus Notes, SMTP Mail), ERP (Oracle, SAP, IBM), FoIP for the gateways (Cisco, Avaya, AudioCodes, Alcatel) and MFP (HP, Ricoh, Canon, Fuji Xerox). With the innovative and rich features, OceanFax helps organizations streamline workflow, improve efficiency and achieve total office automation.