OceanX partner with Cisco to provide Fax over IP solution delivering greater interoperability
October 27, 2011
Posted by:

OceanX

Category:

Press Release

Hong Kong – 27 October 2011 – OceanX, the developer of the No.1 Best-selling OceanFax Fax Server, announced today that it has joined the Cisco Developer Network as a Registered Developer within the Unified Communications technology category. This partnership strengthens OceanX's position as an innovative software development company and highlights its dedication to quality implementations.
The Cisco Developer Network unites Cisco with third-party developers of hardware and software to deliver tested interoperable solutions to joint customers. The program also allows developers to take advantage of Cisco's brand, market leadership position, and installed base to help drive positive business results for themselves and their customers.
As a Registered Developer, OceanX will team with Cisco to provide customers with integrated Fax over IP software solutions in conjunction with Cisco Unified Communications Manager for FoIP processing. With offerings such as OceanFax Fax Server, customers can quickly deploy a broad range of Cisco Compatible business applications, devices, or services that can enhance the capabilities, performance, and management of their Cisco network.
OceanX is a leading fax server solution provider, mainly engaged in R&D, sales and implementation of OceanFax Fax Server, the No.1 Best-selling & Award-winning Fax Server. OceanFax FoIP is a feature-rich, powerful and cost-effective fax software solution that addresses the "fax problem" in IP networks with the most advanced FoIP integration for the gateways, including Cisco. It is also the most innovative Fax over IP solution which is designed to support the high-volume document delivery in an efficient and reliable way.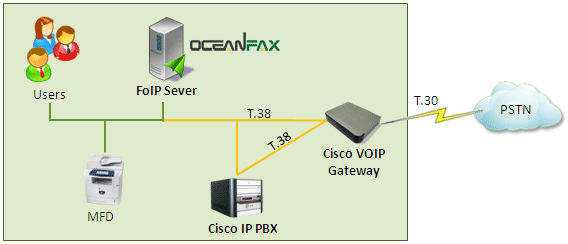 OceanFax FoIP is built on .NET technology and the first Fax over IP solution in the field that supports Unicode, Super User, Black & White list, and Windows on the Web, Fax Data Mining, Fax Report Generator, Multi-languages and Stamp & Approval. Beside the innovative features, the fax software solution helps organizations reduce telecom cost; ensure data security and regulation compliance and enables easy integration of faxing with Email (Exchange, Lotus Notes, SMTP Mail), ERP (Oracle, SAP, IBM) and MFP (HP, Ricoh, Canon, Fuji Xerox).
"We are pleased to partner with Cisco to deliver the industry leading OceanFax FoIP solution." said Tse Chiu Hing, OceanX CEO, "Partnering with Cisco not only reinforced our leading position in the FoIP market, but also undoubtedly will be the new revenue engine to drive higher sales of OceanFax FoIP!"