OceanX Successfully Exhibited in China Hi-Tech Fair 2016
November 25, 2016
Posted by:

OceanX

Category:

Events
OceanX Successfully Exhibited in China Hi-Tech Fair 2016
Shenzhen China ─ 25 November, 2016 – OceanX, the world's leading Enterprise Information Management and Delivery solution provider, has successfully exhibited in the China Hi-Tech Fair 2016 which was held in Shenzhen Convention & Exhibition Centre. OceanX has gained many local and international resellers and buyers during the event period, they all have great interest in the best-selling & award-winning OceanFax Fax Server and the Document Management System of OceanX product – including the cloud-based OceanX ECM, OceanX DPC, OceanX Capture and OceanX PDFX.
China Hi-Tech Fair 2016 attracts 3533 exhibitors from 37 nations and 589,000 visitors from 97 nations, OceanFax and OceanX ECM earned high attention from buyers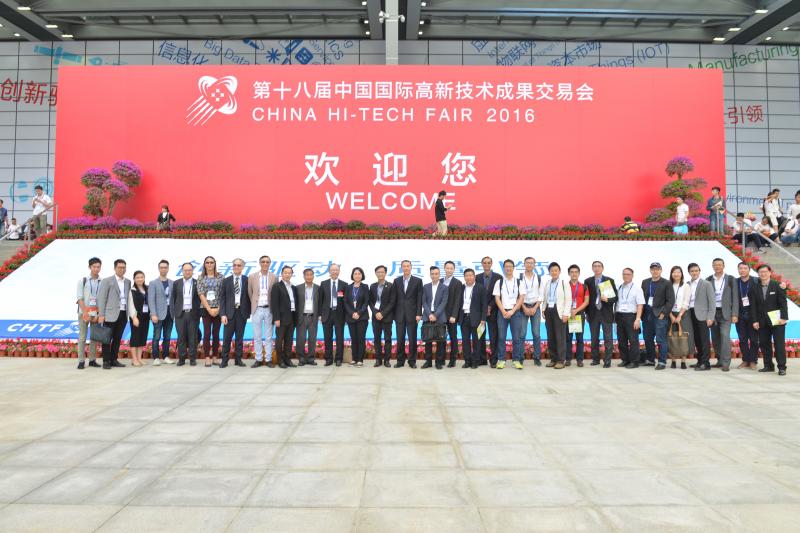 The China Hi-tech Fair 2016 is organized by Department of China Ministries and Commissions including China Ministry of Commerce, Ministry of Science and Technology, Ministry of Industry and Information Technology, National Development and Reform Commission, Ministry of Agriculture, Intellectual Property Office, China Academy of Sciences and China Academy of Engineering. The topic of this event is "Innovation drives quality", the purpose of the event is to promote the development of technology through one official platform, and to open the mutual communication and trading. China Hi-Tech Fair 2016 attracted 3,533 exhibitors from 37 different nations and 589,000 visitors from 97 nationalities.
Through this event, OceanX has successfully introduced its innovative solution products and service to target customer, helping OceanX to open the international and local market. The most popular products include both of the well-known OceanFax Fax Sever and the latest document management software in OceanX – OceanX ECM, OceanX DPC, OceanX Capture and OceanX PDFX.
OceanX Solution – Cloud-based ECM, OceanX Capture and OceanFax Fax Server, the best IT Solution to Streamline Document Management Process and Achieve Office Automation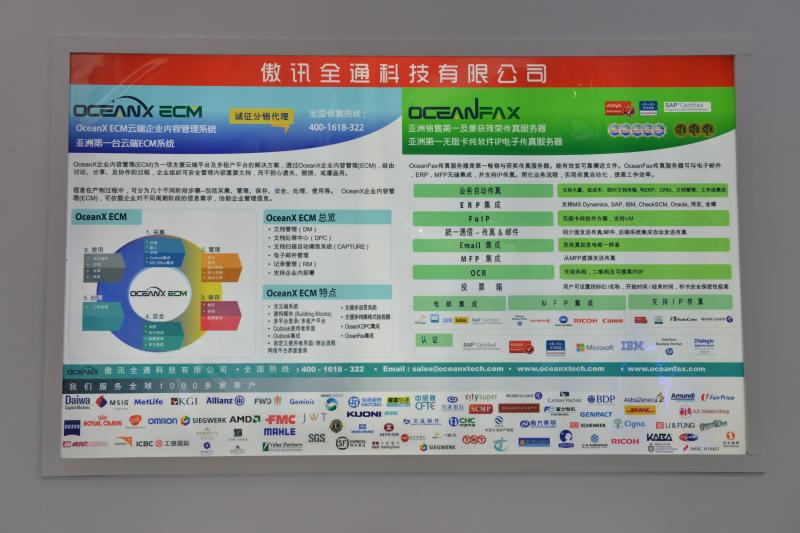 It is the excellent office automation feature of OceanFax that attracted reseller's attention most. No matter from the application of the production fax, production messaging of handling fax and email at the same time, or the system integration ability of Email、MFP、ERP & SAP integration, OceanFax can facilitate the total office automation effectively and reduce great amount of cost consumption for companies.
With the upcoming information age, the ability of document management has become the survival index for most of the business. OceanX ECM helps companies manage the scatter documents into an ordered, secure and efficient manner, helping clients to save abundant cost of money. Through OceanX Capture to catch information on critical documents and go through the processes of manage, preserve, secure and process those documents, OceanX ECM can handle the whole information life cycle of the important files, enabling users to utilize critical documents and no need to worry the lost of their documents.
About OceanX Technology Limited
Founded in 2005 and Headquartered in Hong Kong, OceanX Technology Limited is a leading Enterprise Information Management and Delivery solution provider of Enterprise Wide Software Solutions. The pioneering and innovative solutions developed by OceanX include the award winning Oceanfax Fax Server solution, the OceanX ECM, OceanX DPC, OceanX Capture and OceanX PDFX solution. The solutions are being used by many middle to large companies and government departments around the world.
OceanX's mission is to develop world-class solution for local markets. So, apart from branch offices in Beijing, Shanghai, Shenzhen and North America, OceanX has been developing worldwide reseller network for years in many countries such as Mainland China, Hong Kong, Macau, Taiwan, India, Singapore, Malaysia, Philippines, Thailand, Indonesia, United States, Canada, UK, Israel, Iran, Egypt, Saudi Arabia, Dubai, UAE, Caribbean Countries, South Africa, Mauritius, Nigeria & Australia.