OceanFax Fax Server with key collaboration solutions from Avaya
June 26, 2013
Posted by:

OceanX

Category:

Press Release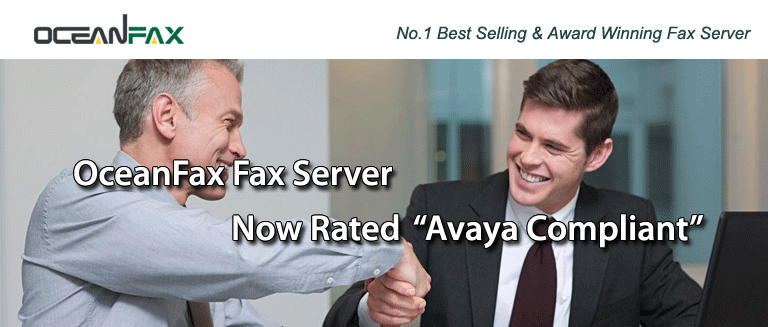 Hong Kong – June 26, 2013 – OceanX, a leading provicompliantder of fax server solutions, today announced its flagship OceanFax Fax Server solution is now with key collaboration solutions from Avaya, a leading global provider of business communications and collaboration solutions.
OceanFax FoIP is the global pioneering and one of Asia's first boardless (software only) Fax over IP solutions (FoIP). OceanFax FoIP supports real time fax transmission over the internet on a VoIP network, with the FoIP integration for Avaya. OceanFax FoIP software is typically deployed and administered in a virtual machine (VM) environment using VMware, Hyper-V and Virtual PC, instead of a physical server, with no need for additional hardware for faxing. By applying it, organizations drastically reduce telecom costs, protect document privacy more effectively and facilitate compliance with regulations, as well as seamlessly integrate Fax into Email, ERP and MFP. The application is now compliance-tested by Avaya for compatibility with Avaya Aura® Session Manager 6.2.
"As an Avaya compatible solution, OceanFax provides businesses with ease of integration with Avaya Aura." said TSE Chiu-hing, CEO, OceanX Technology Limited. "Completion of DevConnect compliance testing helps ensure customers can confidently add OceanFax fax capability to their Avaya IP network without having to replace the existing infrastructure, as well as helps them to expedite the integration process of OceanFax FoIP with Avaya Aura."
As a Technology Partner, OceanX is eligible to submit products for compliance testing by the Avaya Solution Interoperability and Test Lab. There, a team of Avaya engineers develops a comprehensive test plan for each application to verify whether it is Avaya compatible. Doing so enables businesses to confidently add best-in-class capabilities to their network without having to replace their existing infrastructure-speeding deployment of new applications and reducing both network complexity and implementation costs.
"Technology partners like OceanX are helping Avaya customers meet their communication and collaboration needs," said Eric Rossman, vice president, Developer Relations, Avaya. "OceanX Fax over IP solutions help organizations reduce telecom costs, protect document privacy, and facilitate compliance with regulations."
Watch the video:
OceanFax FoIP – Avaya DevConnect Compliance Tested Solution
About Avaya
Avaya is a global provider of business collaboration and communications solutions, providing unified communications, contact centers, networking and related services to companies of all sizes around the world. For more information please visit . For more information on the Avaya DevConnect program, visit www.avaya.com/devconnect. For more information on solutions from DevConnect Technology Partners, visit www.devconnect/marketplace.com.
About OceanX
OceanX is a leading fax server solution provider, mainly engaged in the development and marketing of OceanFax Fax Server, OceanFlow Approval & Workflow System and OceanForm E-Form System. Besides IT systems, the company also provides comprehensive IT services, including consultancy, system planning, implementation, integration, aiming at providing the best IT solutions to customers. The company is headquartered in Hong Kong and represented in Shanghai and Shenzhen.